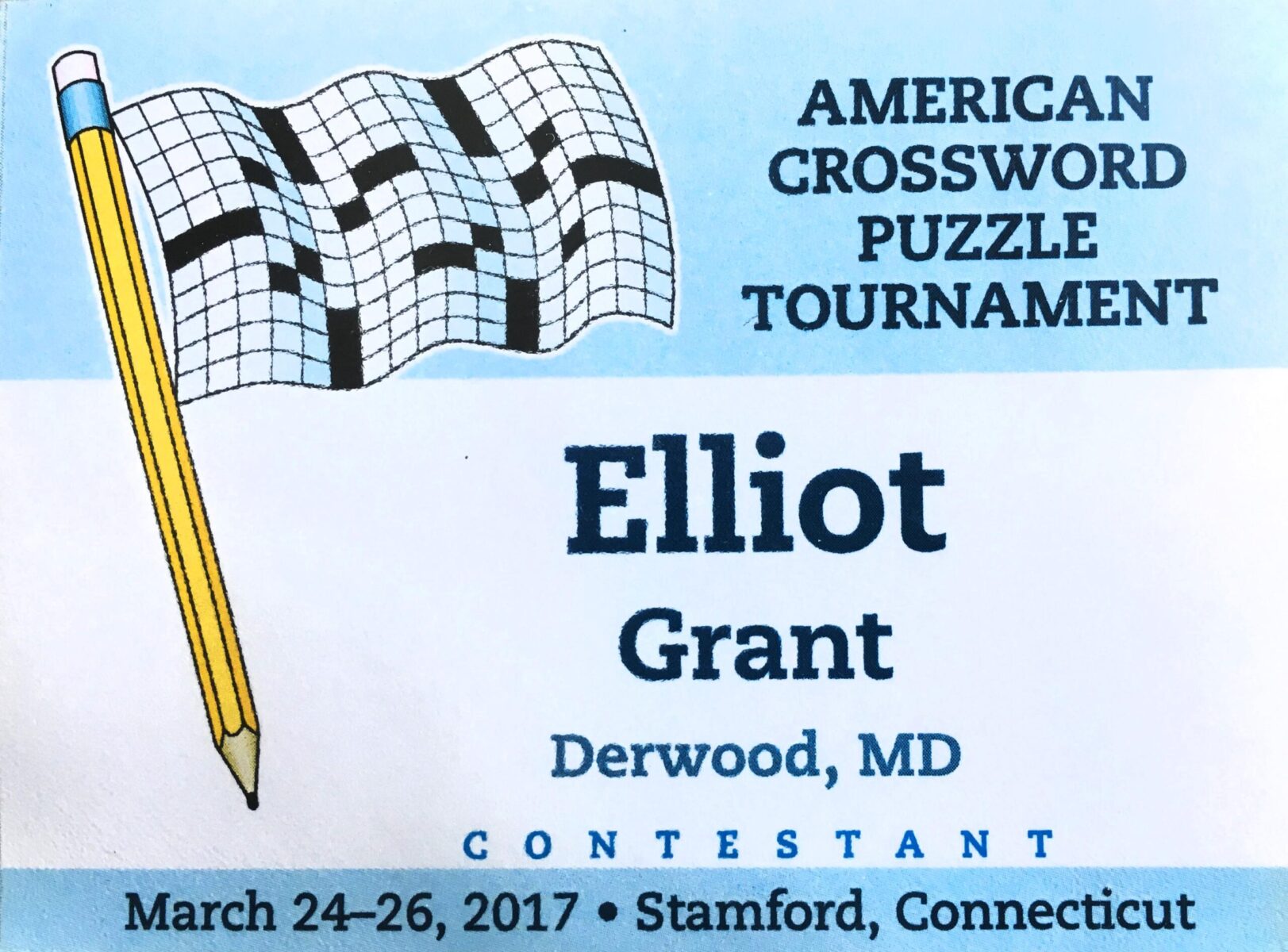 I've been solving crosswords for, oh, decades now. I even have a vivid memory of my parents bringing home the inaugural issue of Games magazine back in the fall of 1977. So I've gotten pretty good at both American and English (or "cryptic") crosswords. But I've never competed in a crossword tournament… until last weekend.
The announcement was featured in the Upcoming Events section of a recent Games issue. I saw the listing and thought, "That would be fun to try some day." Which, given the uncertainty surrounding "some day", spurred me to register for this year's event—the American Crossword Puzzle Tournament's 40th anniversary in Stamford, Connecticut.
I'm not the kind of person who obsessively prepares for things like this. I didn't, for example, memorize lists of obscure three-letter words. But I did solve significantly more puzzles than usual, and I read a book on crosswords by former national champion Stan Newman. My dad, also a crossword puzzle fan, decided to join the adventure and prepared similarly. Unfortunately, he was sidelined at the last minute by a nasty bout of flu. So on Friday, March 24, I flew up to Stamford alone.
Some 600 other cruciverbalists also arrived. Famed puzzle creator and editor Will Shortz ran the affair, aided and abetted by the afore-mentioned Stan Newman and other crossword bigwigs. The procedures were straightforward: All contestants would solve 7 puzzles of varying size and difficulty. The top three scorers in three different skill levels would then face off on a final championship puzzle. I didn't expect to make the finals in the top skill level, but I hoped to have a chance at finishing among the top "Rookies" (no previous tournament experience).
Scoring was based on both accuracy and speed, with time limits for each puzzle depending on size and difficulty. We tackled three puzzles on Saturday morning, three more Saturday afternoon, and the seventh Sunday morning. The championship puzzle was Sunday afternoon.
I wasn't sure how I would compare to the other word mavens, but I felt a little more comfortable after solving the initial puzzle. It was of average difficulty, and I thought I'd gotten the entire grid correct. More reassuring was that I'd finished in only 7 minutes out of the alloted 15. I certainly wasn't the first to finish, but I did seem to be ahead of the curve.
That trend continued, apart from the notorious 5th puzzle. We were warned that this one would be extremely hard—and they weren't kidding! This was the only puzzle I couldn't finish, completing about 3/4 of the clues.
Here's a breakdown of how I did on each puzzle:
Puzzle Completion Statistics

| | % Correct | Allotted Time | Time to Complete |
| --- | --- | --- | --- |
| Puzzle #1 | 100 | 15 minutes | 7 minutes |
| Puzzle #2 | 100 | 25 minutes | 18 minutes |
| Puzzle #3 | 100 | 30 minutes | 20 minutes |
| Puzzle #4 | 100 | 20 minutes | 7 minutes |
| Puzzle #5 | 75 | 30 minutes | 30 minutes |
| Puzzle #6 | 100 | 30 minutes | 10 minutes |
| Puzzle #7 | 100 | 45 minutes | 13 minutes |
All in all, not bad, right? Did this put me in the top 10? The top 25? The top 50?
Not even close. I finished 168th out of 619 puzzlers (!). Among Rookie contestants, I was 13th out of 125—a respectable, if not standout, standing.
Obviously, my performance on puzzle #5 hurt. But mostly the winners were just crazy fast. As the contestant sitting next to me remarked during one of the breaks, "I couldn't finish that quickly even if I were copying the answer key."
Oh well. Apparently, there's another tournament here in DC on June 3…