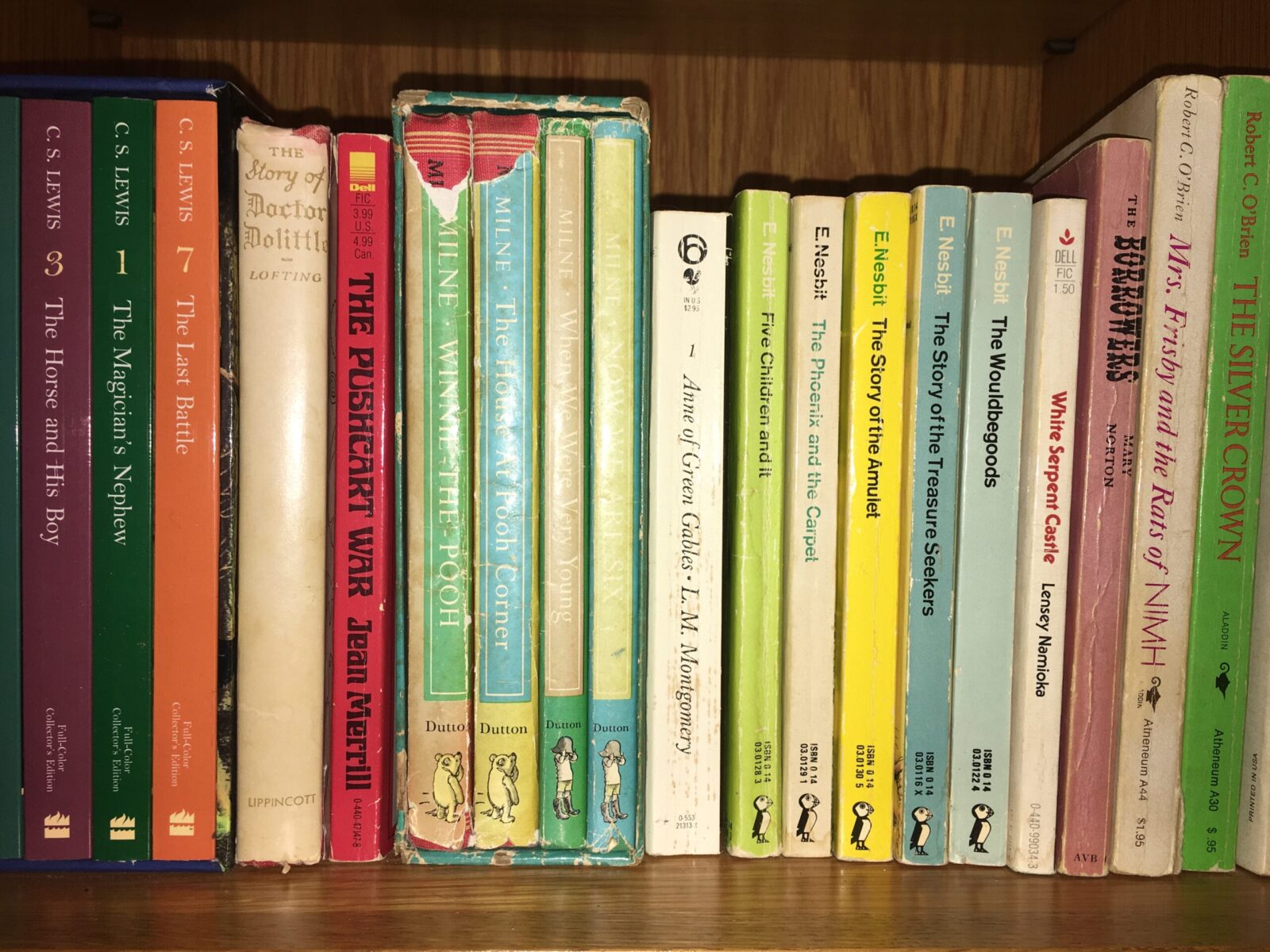 In a previous post, I mentioned how large a role good books have played in my life. And being a bit of a packrat, I've accumulated many tomes over the decades. Even after donating roughly half of my books when we moved to Sligo Park Hills, I still had bookshelves groaning under the weight of double-stacked rows. That's why one of my requirements for building a house was a real library. It's a dream come true.
I've often been asked about my favorite books, a question that defies a succinct answer. But I certainly have many best-loved books, so I thought I'd share them here. I'll post them in three lists: favorite books for children, favorite fantasy & science fiction books, and other fiction and nonfiction favorites.
Like the Movies database on this site, these lists don't try to be current. Rather, I'm focusing on books that I grew up with—ones that might even be overlooked by today's readers. I also do not mean these are books you should read—I enjoyed very few of the books I was forced to read in various English and literature classes. These are simply books I loved reading (and re-reading). I think you'll enjoy them too.
Favorites of Children's Literature
Alexander, Lloyd

The Chronicles of Prydain

Blume, Judy

Tales of a Fourth Grade Nothing

Burroughs, Edgar Rice

The Tarzan series (first 4 books)

Carroll, Lewis

Alice's Adventures in Wonderland
Through the Looking-Glass, and What Alice Found There

Christopher, John

Cooper, Susan

The Dark Is Rising sequence

Dahl, Roald

Charlie and the Chocolate Factory
Danny the Champion of the World
James and the Giant Peach
The Wonderful Story of Henry Sugar and Six More

Eager, Edward

Edwards, Julie (AKA Julie Andrews)

The Last of the Really Great Whangdoodles

Farley, Walter

Fitzgerald, John D.

Futrelle, Jacques

George, Jean

Gilbreth, Frank B.

Goscinny & Uderzo

The Adventures of Asterix series

Henry, Marguerite

Hergé

The Adventures of Tintin series

Juster, Norton

Kipling, Rudyard

The Jungle Book
Just So Stories

Konigsburg, E.L.

From the Mixed-Up Files of Mrs. Basil E. Frankweiler
Jennifer, Hecate, MacBeth, William McKinley, and Me, Elizabeth

Note: Konigsburg won the Newbery Medal and a Newbery honor in the same year for these remarkable books.

Lawson, Robert

Le Guin, Ursula K.

L'Engle, Madeleine

Lewis, C.S.

Lofting, Hugh

The Story of Doctor Dolittle

Macaulay, David

Merrill, Jean

Milne, A.A.

Winnie-the-Pooh
The House at Pooh Corner

Nesbit, Edith

Five Children and It
The Phoenix and the Carpet
The Story of the Amulet

O'Brien, Robert C.

Mrs. Frisby and Rats of NIMH
The Silver Crown

O'Dell, Scott

Island of the Blue Dolphins

Paterson, Katherine

Pène du Bois, William

Raskin, Ellen

The Westing Game
The Mysterious Disappearance of Leon (I Mean Noel)
The Tattooed Potato and Other Clues

Rockwell, Thomas

Rodgers, Mary

Freaky Friday
A Billion for Boris

Selden, George

The Cricket in Times Square
The Genie of Sutton Place

Silverstein, Shel

Where the Sidewalk Ends
A Light in the Attic

Sobol, Donald

The Encyclopedia Brown series

Steig, William

Stevenson, Robert Louis

Titus, Eve

Tolkien, J.R.R.

Travers, P.L.

White, E.B.

Charlotte's Web
The Trumpet of the Swan
Stuart Little

Wilder, Laura Ingalls

Little House on the Prairie
Farmer Boy