Unindicted co-conspirator Amber Blaha and I put together the first Hunt during the summer of 1987. It was a straightforward series of puzzles, with the answer to each being the location of the next clue. The prize—a basket of goodies, I think?—was hidden at the final location, a secret glen in Rock Creek Park that our crew had discovered earlier in the year.
We split participants into two teams, being careful that each team had someone who would remember the Rock Creek Park destination. The day before the Hunt, we journeyed around the DC metro area hiding clues at the other locations. The only one I definitely recall now is "Perry Lion", one of the stone statues guarding the Taft Bridge where Connecticut Avenue spans Rock Creek Park. The Silver Spring Acorn may have been another site.
Little now remains of our first effort. The only puzzle I still have is this rebus: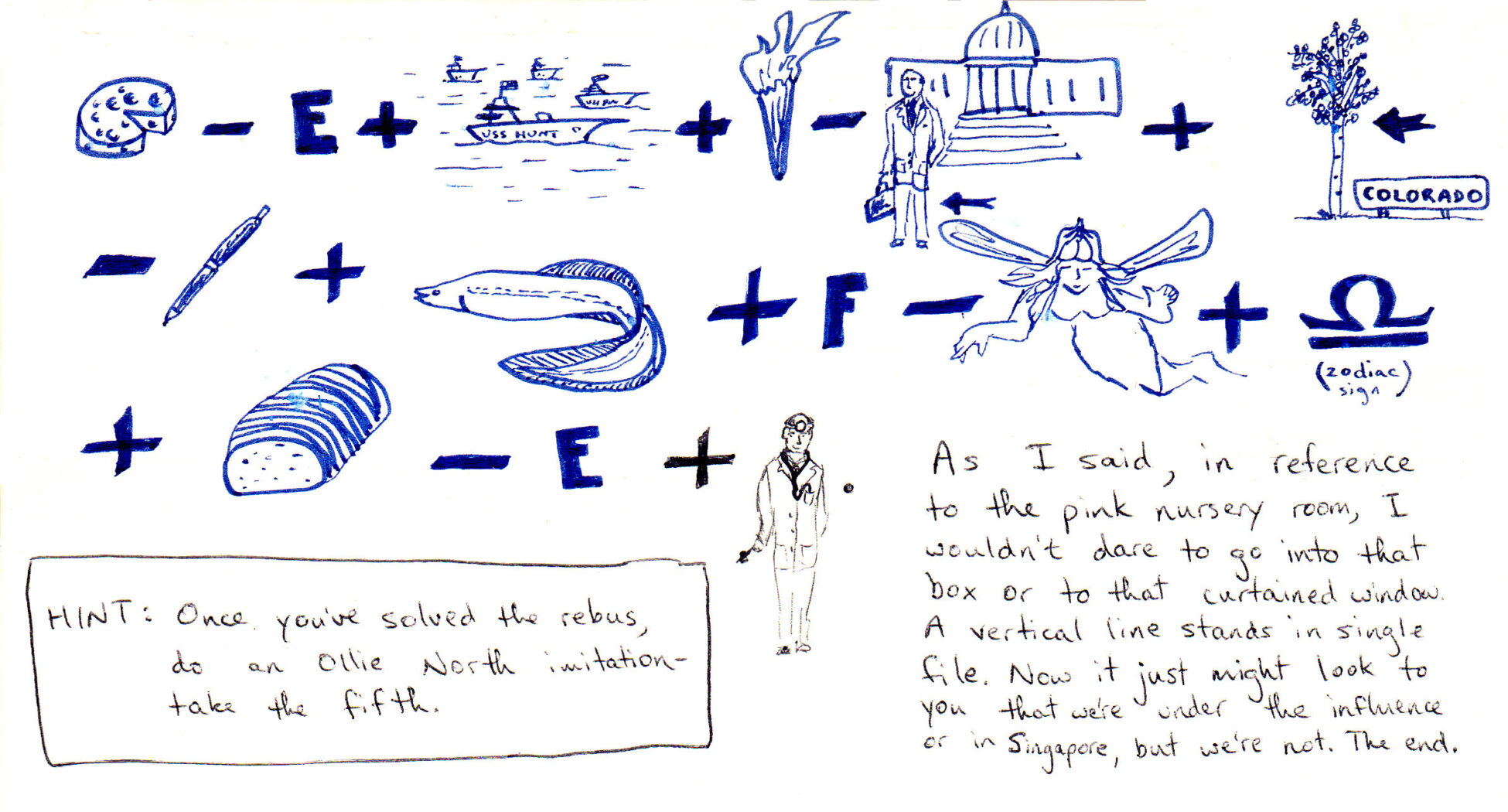 I'm sure the answer is obvious to everyone reading this… But just for completeness, I'll walk through the solution.
CHEESE – E leaves CHESE
CHESE + NAVY leaves CHESENAVY
CHESENAVY + TORCH leaves CHESENAVYTORCH
CHESENAVYTORCH – SENATOR leaves CHEVYCH
CHEVYCH + ASPEN leaves CHEVYCHASPEN
CHEVYCHASPEN – PEN leaves CHEVYCHAS
CHEVYCHAS + EEL leaves CHEVYCHASEEL
CHEVYCHASEEL + F leaves CHEVYCHASEELF
CHEVYCHASEELF – ELF leaves CHEVYCHASE
CHEVYCHASE + LIBRA leaves CHEVYCHASELIBRA
CHEVYCHASELIBRA + RYE leaves CHEVYCHASELIBRARYE
CHEVYCHASELIBRARYE – E leaves CHEVYCHASELIBRARY
CHEVYCHASELIBRARY + M.D. leaves CHEVYCHASELIBRARYMD
…or in other words, the Chevy Chase library in Maryland (since there's also a Chevy Chase library in DC).
Following the hint, solvers then had to read only every fifth word in the accompanying paragraph. This gives the additional instructions "Reference room. Go to vertical file. Look under "Singapore". End."
Somehow, people actually did figure out all our clues and find the prize. And nobody was arrested for climbing on public property! In fact, everyone had such a good time that we thought we might just do this Hunt thing again sometime.