We arrived in Vietnam late Sunday night after a brief layover in Seoul. The next morning, we drove 4 hours from Ho Chi Minh City to the coastal province of Binh Thuan, where Thông's care center is.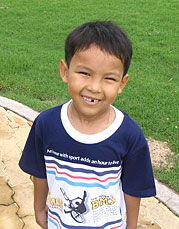 Upon arrival, we were welcomed by a very loving child with the cutest smile and longest eyelashes we've ever seen. Thông is a very smart and considerate, affectionate little boy who has called us "ba" and "me" (for Daddy and Mommy—the latter is pronounced like "may") since day one. He held both our hands whenever we took a walk.
Though he misses his nanny—calling twice a day while we were still in Vietnam—he's excited by the novelty of traveling and being part of a family.